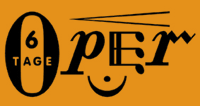 The Island
Historic Background
The Human Zoo
An Ubiquitous Opera
Biographies
The Venue in Düsseldorf
Participants
Press
© 2022 EVKM




Biographies




Eduardo Castro Neves
Dancer

Eduardo Castro Neves studied acting and dance in his homeland Brasil at the Conservatório de Dança Eloisa Menezes and at Casa de Cultura Laura Alvin in Rio de Janeiro as well as Performing arts with a focus on Modern dance and choreography at the Wichita State University. He completed a Bachelor's Degree in Communication Science at the University FACHA in Rio de Janeiro.

In Brasil he danced for three years under Fábio de Mello fort he BCRJ (Balé Contemporâneo do Rio de Janeiro) and took part in many different productions. In the States he worked for the company MADT (Mid-american dance Theatre) under Kim Stephens and Carol Iwasaki.

In 1997 he came to Germany, where he had his first contract at the opera in Bonn. Since then he has worked in different national and international productions, such as at a tour of Dance-Link through Germany and the Netherlands, in which he danced in Tamara Stuart Ewing's and Martin Butler's nominated choreography "Walter, the rabbit than ran with the wolves".

In 2001 he danced in the "Duett 2001 - how are you today?" by Alexandra Dederichs (Cologne and DĂĽsseldorf) and in "Abstraktionen- er und sie" by and with Catharina Gadelha (Cologne, Munich, Ludwigsburg, Dresden and Stuttgart). He also assisted the choreographer Stephanie Thiersch with "Le cœur volĂ©" (Cologne, Essen, Dortmund). He has taught dance ever since and has worked as a professional Vinyasa-Yoga-Teacher since 2005.

In June 2002 Eduardo Castro Neves presented his first own piece "No longer alone" in Cologne. In the same year he performed his solo piece "Thirst" at the Tanzblende Cologne, which was replayed at the international dance week in Dresden in 2003.

Several productions of his own followed, which were presented in Cologne and other European cities. Among others "Outbreak" (2004), "The burden of being a necrophile" (2005) and at last "Manual for a better living" (2007).

As a dancer he last worked with Jennifer Mann/Heidi Weiss (Berlin, Dresden, Festival international de artes escénicas de Sevilla 2007), Olivier Gabrys (Lyon, Dole, Montreux 2007), Sebastian Eilers (Nuremberg 2006), Eun-Ok Choi (Paris 2005), Francesca Stampone (Florenz 2005), Susan Buirge (Foundation Royaumont, Frankreich 2004).